The following facilities are available for rent at Pride Park:
Community Center
Three (3) covered shelters
Rental reservations are made on a "first-come, first-serve" basis by coming to the Taylor Mill Administration office during normal business hours, signing a contract and providing the rental fee and deposit by either check or cash. All facilities can be reserved no more than one year in advance.
Pride Park Community Center
The Pride Park Community Center is a non-smoking facility that can be rented for parties, wedding receptions, baby showers, etc. and is also available for business meetings and conferences.
The center includes:
Main House with two meeting rooms, warming kitchen, serving area, covered front and back porch and restrooms. The main house is attractively decorated and features beautiful gas fireplaces. Warming kitchen has two full-size refrigerators with freezers, a stand-alone ice machine, numerous wall outlets, microwave and three ovens that will hold 18 casserole dishes.
Café with small serving area and restrooms The serving area includes a small refrigerator and microwave.
Outdoor Gazebo - is available for use to the renters of the facility and comes equipped with electrical outlets.
The Main House, Café or entire facility can be rented, and the rental comes with round tables and chairs which must remain inside the facility (you must provide your own linens).  Total capacity is 230 standing and 105 seated.
On dates the center is already rented, we can possibly accommodate your rental on the same day if the times do not overlap and there is ample time for our crews to set up for the next party.
Community Center Rental Agreement
Park Place Community Center Information
Park Place Community Center Photos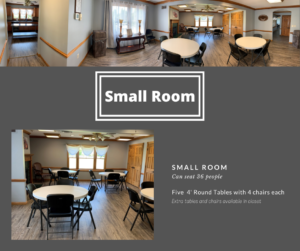 Covered Shelters
Three covered shelters with restrooms are available to rent at Pride Park:
Shelter #1 (Winston Park) - co-located with Shelter #2 next to the playground (faces the playground)
Shelter #2 (Sunny Acres) - co-located with Shelter #1 next to the playground (overlooks the park and walking trails)
Shelter #3 (Forest Hills) - a stand-alone shelter located on the side of the park with its own parking lot
All shelters have six picnic tables under a covered facility with a concrete floor, handicap accessible restrooms, grills and adjacent water fountains.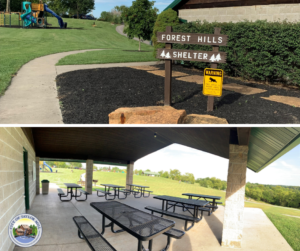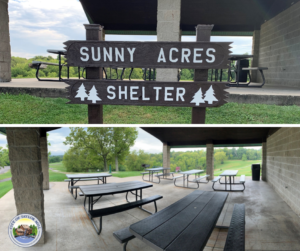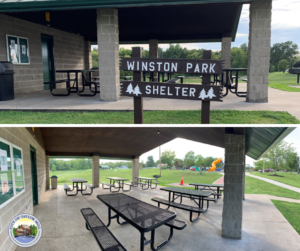 Pride Park Shelter Rental Agreement
Pride Park Shelter Rental Rates