Fire/ EMS Dept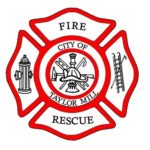 Fire Chief John Stager
Station #1: 5231 Taylor Mill Road
Emergency Hours: 24/7
Emergencies: 911
Office: (859) 581-6565
Administrative Office Hours:
8 a.m. to 5 p.m. Monday - Friday
Fire/Emergency Medical Services (EMS) Department
The Taylor Mill Fire/EMS Department protects the lives and property of citizens who live and work in the community.
We provide the following services:
Fire suppression
Rescue
EMS with Basic and Advanced Life Support
Mutual aid to neighboring fire departments
Response to spills/leaks of hazardous chemicals with assistance from Northern Kentucky HazMat 7 if needed
Roadway cleanups from spills and accidents
Enforcement of open burning regulations
Response to severe weather/natural disasters
Inspection of local businesses to ensure compliance with fire code
Fire hydrant maintenance
Public education to promote fire safety
We employ a mix of more than 60 full-time, parttime and volunteer firefighters, firefighter medics and firefighters EMTs and make an average of 1,000 to 1,200 runs each year. About 65% of our runs are Rescue or EMS related. Structural fires account for about 8% of our calls.
Our equipment includes:
Pumpers and rescue pumpers
Life squads (ambulances)
AB Foam tanks (for fire suppression)
Attack and supply fire hoses
Hydraulic rescue tools (e.g., jaws of life)
6 x 6 Gator for brush fires
Thermo-imaging cameras
Self -Contained Breathing Apparatus (SCBA)
Air truck to fill up SCBA equipment
To view the list of public services and educational opportunities offered to the community by the fire department, please visit the Public Services & Education page.