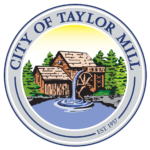 The city is working with the Sanitation District 1 to address storm water issues on private property.  This program, called Cost-Share Storm Water Program, allows a property owner to address a storm water issue on their property and get reimbursement assistance from both the city and SD1.
If interested please download the application below and return to the city of Taylor Mill  at your earliest convenience.  Your application will be reviewed by both the city and SD1 and if your project is accepted, your will be reimbursed 1/3 of your project cost by the city and 1/3 by SD1 after you have completed the project.
Please click here to go to SD1's information page.  SD1 Private Cost Share Program .  You may also call the city with any questions.
Brian Haney, CAO, 859-581-3234