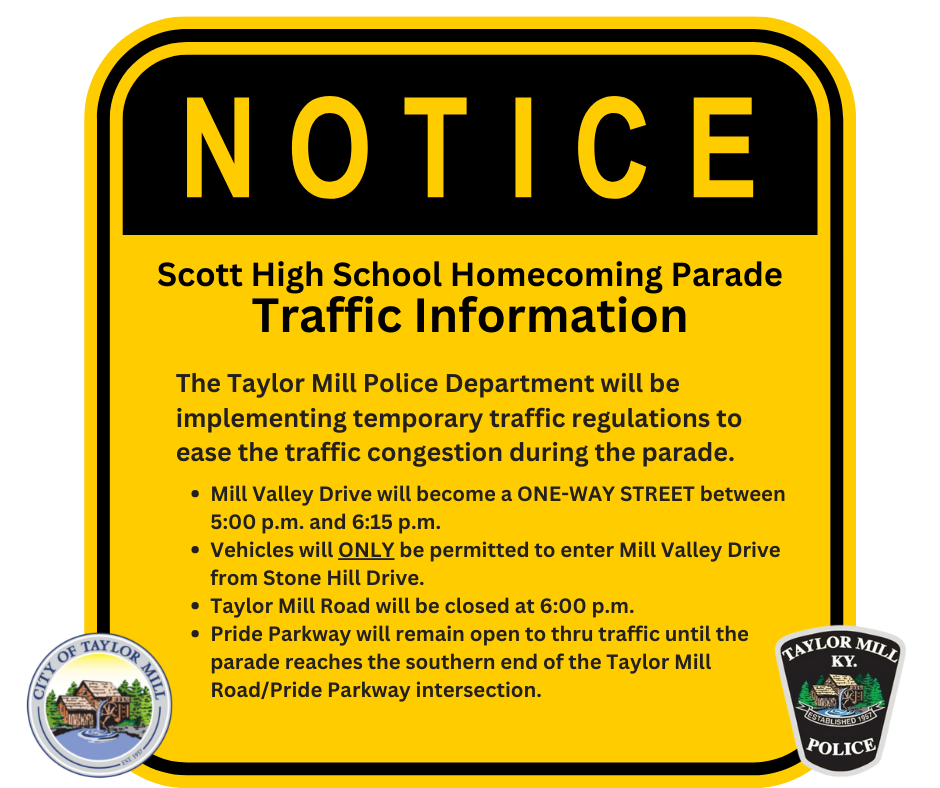 The Taylor Mill Police Department will be implementing temporary traffic regulations to ease traffic congestion for the Scott High School Homecoming Parade today, September 16th.
NO On-Street Parking will be permitted on Mill Valley Drive between the hours of 1:00 p.m. and 7:00 p.m. Any vehicle not moved will be towed at the owner's expense.
Mill Valley Drive will become a ONE WAY STREET moving in an easterly direction from Stone Hill Drive to Taylor Mill Road between the hours of 5:00 p.m. and 6:15 p.m.
Vehicles will ONLY be permitted to enter Mill Valley Drive from Stone Hill Drive. NO VEHICLES will be permitted to enter Mill Valley Drive from Taylor Mill Road after 5:00 p.m.
Residents are encouraged to use Sunset Drive or Old Taylor Mill Road to access Stone Hill Drive.
Police Officers will be on hand to assist residents in getting to their homes safely during this event.
Taylor Mill Road South Bound will be closed at 6:00 p.m. and will reopen immediately after the parade. Pride Parkway will remain open to thru traffic until the parade reaches the southern end of the Taylor Mill Road/Pride Parkway intersection, then Pride Parkway will be closed between Taylor Mill Road/Wayman Branch Road and Scott High School until after the parade.
The Taylor Mill Police Department apologizes for any inconvenience this may cause. Thank You for your cooperation in making this event safe for everyone.