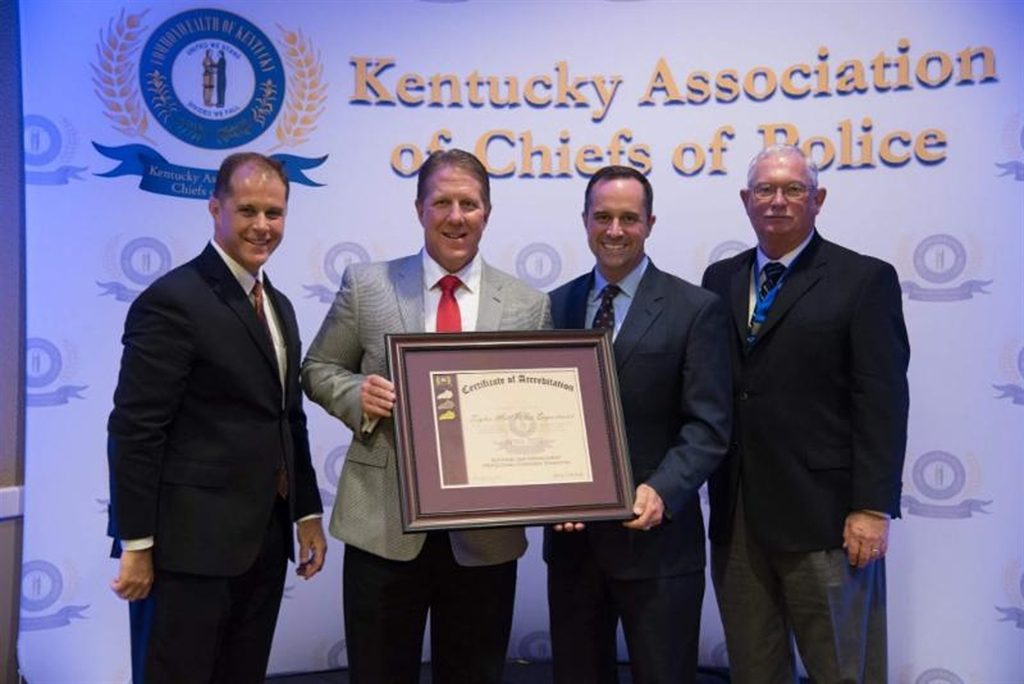 TAYLOR MILL, KY – On July 26, 2017, the Kentucky Association of Chief of Police presented to Chief Steve Knauf, the Taylor Mill Police Department's fourth, five year Certificate of Accreditation. Thereby, ensuring the department's state accreditation status for an uninterrupted twenty year period, through the year 2022.
State accreditation status demonstrates a commitment to professional excellence in policy and practice of highly regarded and broadly recognized body of professional standards, promulgated by the Kentucky Law Enforcement Professional Standards Committee.
Longtime Taylor Mill Mayor Dan Bell was quoted as saying, "TMPD has distinguished itself as one of only two agencies in Kentucky to hold both state and nationally accredited certifications, a testament to the vision and twenty-five years of leadership and commitment that Chief Knauf has devoted to our police department."
The gentlemen in the photograph holding the Certificate of Accreditation (from left to right) include Chief Steve Knauf, and Kentucky State Senator and Taylor Mill resident Chris McDaniel from the 23rd District.
For more information please contact:
CAO Jill Cain Bailey   (859) 581-3234
Chief Steve Knauf      (859) 581-1192