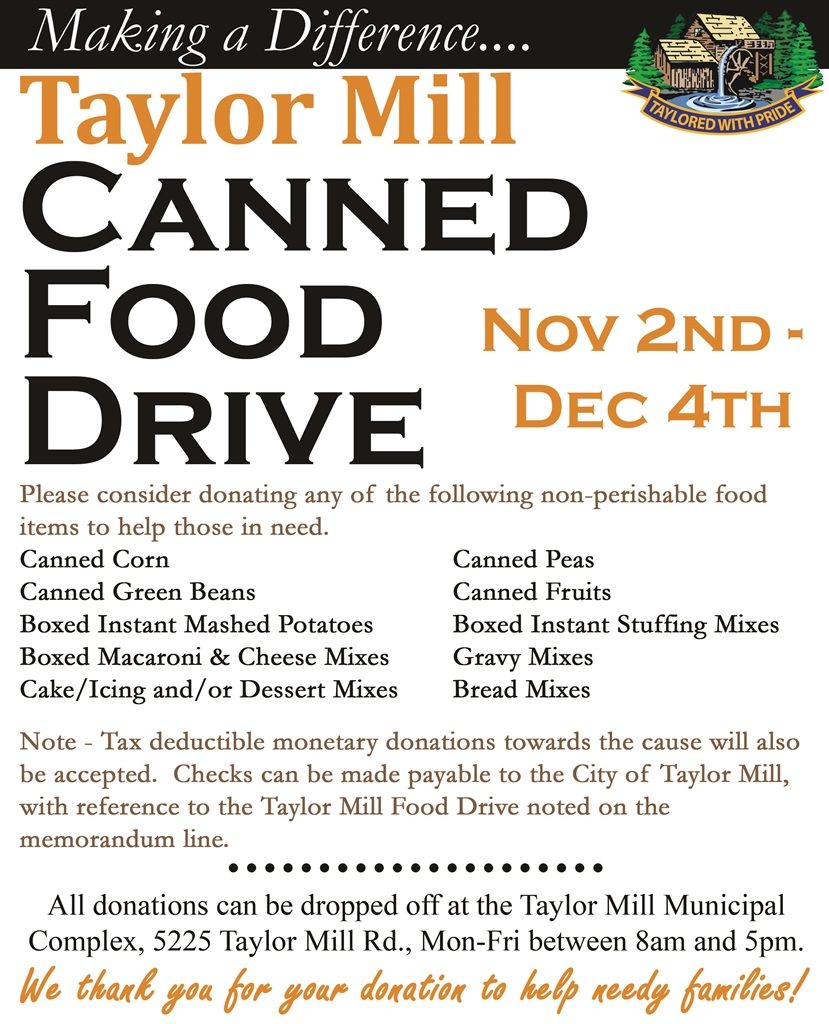 The City of Taylor Mill is once again collecting non-perishable food items for our 7th Annual Holiday Meal Project to help those in need this upcoming holiday season.
Each year we join together to prepare Holiday Meal Bags that consist of many of the traditional fares of the holiday season. Since the inception of our Holiday Meal Program we have proudly provided Holiday Meal Bags to over 500 needy families in our area. This year we hope again to see growth in contributions exceeding last year's numbers, but we desperately need your support and assistance to do so.
Please consider donating any of the following non-perishable food items to help those in need.
Canned Corn
Canned Peas
Canned Green Beans
Canned Fruits
Boxed Instant Mashed Potatoes
Boxed Instant Stuffing Mixes
Boxed Macaroni & Cheese Mixes
Cake/Icing and/or Dessert Mixes
Gravy Mixes
Bread Mixes
Note – Tax deductible monetary donations towards the cause will also be accepted. Checks can be made payable to the City of Taylor Mill, with reference to the Taylor Mill Food Drive noted on the memorandum line.
All donations can be dropped off at the Taylor Mill Municipal Complex, located at 5225 Taylor Mill Road, Taylor Mill, KY 41015, Monday through Friday between the hours of 8 am and 5 pm. Donations received before or after those hours, or on weekends, can be dropped off at the Taylor Mill Police Department or the Taylor Mill Fire/EMS Department.
Donations will be accepted through Friday, December 4, 2015.
For more information please contact us at 859.581.3234.
We thank you in advance for your kindness, consideration, and support of helping those less fortunate.